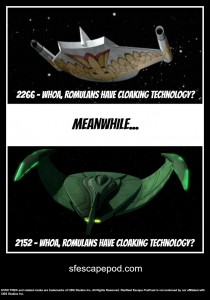 The crew of the Starfleet Escape PodCast discuss one of Star Trek's greatest foes, the Romulans. We begin the episode talking about the latest news from the Trek universe including the new Vulcan characters in "Star Trek The Game," "Star Trek Renegades" updates, the passing of Malachi Throne, and the upcoming wedding of Sir Patrick Stewart. We highlight another great "Would You Buy It?" from Bye Bye Robot and find out if the crew would buy it or not.
The Romulans are discussed in detail. From their Origins, the Earth-Romulan War, to their technology – we talk about it all. As always we turn to you the listeners and find out what you think in the "Subspace Channels." This week we ask you what your favorite Romulan or Romulan episode was and discuss it on air.
We hope you enjoy this episode and invite you to escape into the Star Trek universe with us here on the Four Eyed Radio Network!
[sc_embed_player_template1 fileurl="http://media.blubrry.com/fern/p/foureyedradio.com/episodes/SFEP017.mp3"]